Sunday, April 02, 2006
The Brand Equity Quiz, 2006- My Journey
Hi All,
The Brand Equity Quiz, the annual corporate Quiz , organized by the Media Behemoth - Benett,Coleman and Company Ltd, is touted as Asia's largest Business Quiz.
Though I have not gone ahead and verified this fact, the event does see participation from almost every Corporate House in the country.
On the 20th of March 2006, when the BEQ Bandwagon came to Mumbai, I left early from office and arrived at the St. Andrews Auditorium in Bandra. Being a bit of a pessimist myself, all I thought is that I will be coming back with a few Gift coupons or T- Shirts.
But at 9:00 PM, when I was trying to get into a second class compartment of the Borivali slow train at Bandra, I realized that I had something heavier to carry back.
Prior to that, Mr. M. Suresh Kumar, my partner, who earned the distinction of becoming the oldest ever participant on stage in the history of the Quiz and yours truly went past 70 odd teams to come Second Best.
It was another thing that after every round, all that I was doing was picking my bag and getting all set to walk off the stage.
Maybe next time, I would have another story to tell.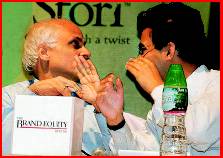 Mr. M. Suresh Kumar (left) and Yours truly in action at the Brand Equity Quiz, Mumbai. Photo Courtesy: The Economic Times dated 29th March,2006 (Brand Equity - Page 4) .

Comments:
Great work aniruddha, we met during CoQ finals 2006 remember?(I happened to win it this year)....
next time u gonna go all the way
Post a Comment
<< Home